It is really important to spend on what's worth investing if you want to up your style quotient. It gets really difficult to shop when you are confused on what to spend on. To save your work we have listed down 10 items which are worth putting your hard earned money into. Our bollywood stars advise us on this by their various looks.
The staple denim
A denim can last for years to come and this staple piece is one of the main actors of everyone's looks. If this piece is so very important then you don't need to think about how much you are splurging on it. A good fitting pair of denim can raise the level of the whole outfit and thus it tops our list. Distressed, boyfriend, flared, skinny denims are versatile and should be bought with care. So ladies! Go ahead and buy that denim that has been in your shopping list for a long time now.
A classic white shirt
A white shirt is a second must have in everyone's capsule wardrobe. A white shirt can be worn to your office, a casual brunch, an evening walk and even to a party; wear an oversized one, the fitted one , in an off-shoulder way or just throw it on and tie a knot, the possibilities are endless. This white beauty should be invested with your all your heart as this fashionable piece will go places.
Boots for days
Be it the ageless lace up boots, the suede ones or the thigh-high ones boots go a really long way. They are best friends with winter and airport looks but can be easily styled with your cute summer dress too. Boots in all colours are versatile and thus it is important that you invest in superior quality comfortable boots.
Denim jackets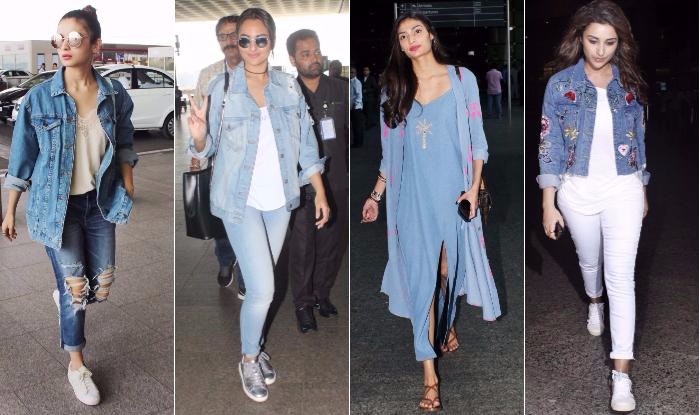 Think something is missing in your outfit? Just throw a denim jacket on and let it do it's magic of adding the swag effortlessly. From ripped to embellish and from blingy to embroidered, denim jackets have the perfect quirkiness. Though we advise you to invest in a basic one that will never go out of trends and will look super chic with all your outfits. Wear it the normal way, put it over your shoulders or just wear it loosely on your arms, denim jacket won't ever let you down.
Solid tops are saviours
When you have those questions of what to wear on those beautiful bottoms, solid tops come to your rescue. Solid tops can be paired with everything literally everything, so go over-the-board with colours. Wear it over printed pants, a skirt, a blazer, wear it literally over anything and solid tops are like those backstage artists that will not steal the attention directly but will let the whole look stand out.
The Little Black Dress
The little black dress has been in vogue for ages now and will not go out of fashion EVER. The LBD can be worn at a casual day out with a shrug on and can of course be worn at the next party with those sky-high heels. LBD is a must-have and can be worn any number of times still looking different each time.
Black heels
Black heels will be your saviour when you don't know which footwear to opt for. Black heels with go with everything be it a dress, pants or a skirt. So invest in pointed pumps, sky-high sexy ones or those comfortable wedges, black heels will be there for you and so it's really important you buy the best ones.
A premium quality bag
You of course must have heard that it is necessary to spend on a high-quality bag as it will last you for years and will make your whole outfit edgier in seconds. A bag is one of those only items whose quality is easily visible on the way it looks. A cheap quality bag's material and the whole feel will drag down your outfit so make sure you invest in the best of the lot.
Sunglasses
Sunglasses will be the one covering your eyes and you don't want to risk your eyes. They will also be the one that carries the graph of your face so make sure you buy the best one as it will also protect your eyes from the harsh rays.