Chennai: During the delegation-level talks between India and China, Prime Minister Narendra Modi said, "A new era of cooperation will begin today through 'Chennai Connect'." PM Modi added, "Tamil Nadu and the historic city of Chennai have connected India and China through cultural and trade exchanges since ages." Meanwhile, after the summit concluded, PM Modi thanked Xi for visiting India.
Foreign Secretary Vijay Gokhale on Saturday said the Kashmir issue was not discussed during Prime Minister Narendra Modi and Chinese President Xi Jinping's informal summit. Gokhale added, "Our position is anyways very clear that this is an internal matter of India." Meanwhile, when asked about cross-border terrorism, he responded, "Sino-India ties are not a single issue relationship."
Referring to his meeting with Prime Minister Narendra Modi, Chinese President Xi Jinping stated, "Yesterday Prime Minister, as you said, you and I had engaged in candid conversations like friends, (had) heart to heart discussions on bilateral relations." He added, "I am overwhelmed by your warm hospitality and I want to thank you and the people of Tamil Nadu."
Chinese President Xi Jinping: We are really overwhelmed by your hospitality. Me and my colleagues have felt that very strongly. This will be a memorable experience for me and us. https://t.co/i5ZbBUj75r pic.twitter.com/bzSJERHR7y

— ANI (@ANI) October 12, 2019
Modi and Xi Jinping discussed domestic development of India and China and exchanged experience in state governance, said a statement released by Chinese state agency Xinhua on Saturday. The statement added, "The two leaders agreed that China and India should respect and learn from each other so as to jointly achieve common development and prosperity."
Narendra Modi gifted a three-feet Thanjavur painting of Hindu goddess Saraswati and a Nachiarkoil lamp to Chinese President Xi Jinping during the latter's two-day visit to India. The six-feet lamp, which weighs 108 kg and took 12 days to make, is coated with gold and features 'Annam', a celestial bird.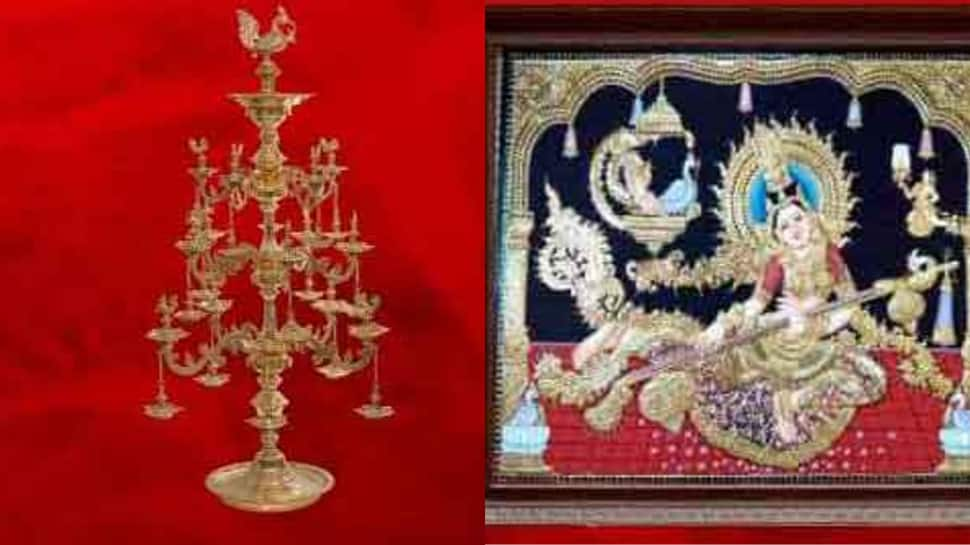 PM Narendra Modi gifted Chinese President Xi Jinping a hand-woven silk portrait of the leader. The portrait has been created by weavers from Tamil Nadu's Coimbatore. During the informal summit between the two leaders, PM Modi said, "We have decided that we will manage our differences prudently and won't allow them to turn into disputes."
A traditional South Indian spread, including Arachavitta Sambar, was part of the dinner hosted by PM Narendra Modi for Chinese President Xi Jinping yesterday. The menu included Thakkali Rasam (spiced extract of tomatoes), Ada Pradhaman (rice palettes cooked with jaggery and coconut milk) and Malabar Lobster (spiny lobster cooked in Kerala spices). The dinner was held at Mahabalipuram's Shore Temple.